A note to potential US customers:

The US Department of Commerce removed duties on Canadian cedar shingles.

Among the freight services offered by Manitoulin Transport, there is access to cross boarder services as well.

If you have a forthcoming project that is going to use cedar shingles, we would be interested in accepting a booking for supplying that project. This will allow you to take the same advantage of the difference in the two currencies that the box stores are enjoying.
While we are unable to ship to the US, the time for you to pick up in here in our yard will still provide you with a substantial savings in comparison to the price the box stores are requesting for the same product.

For an update on the current exchange rate:

https://www.xe.com/

While we are not set up for export, we can have your product shipped LTL within Canada to a more convenient location on the Canadian side of the border.
A cedar shingle roof installed to best practices ought to provide you with well in excess of 50 years of service life.

Cedar shingle starter course

A cedar shingle roof provides a cooler attic space than asphalt or steel by 28 deg F according to a University of Texas study.

Cedar shingles on a cottage style roof
Our customer in Sudbury, ON was considering installing a central air conditioner in his home. After we had installed his roof, because the house was so much cooler in the summer months, he had forgone the expense of installing that air conditioner altogether.

Due to high demand, all shims are on a no deposit booking basis and will be shipped in the order
the booking is received.
Ask us about our wood boxes and crates with cedar excelsior for your gift packaging needs.
These boxes and crates are produced in Canada using Canadian wood.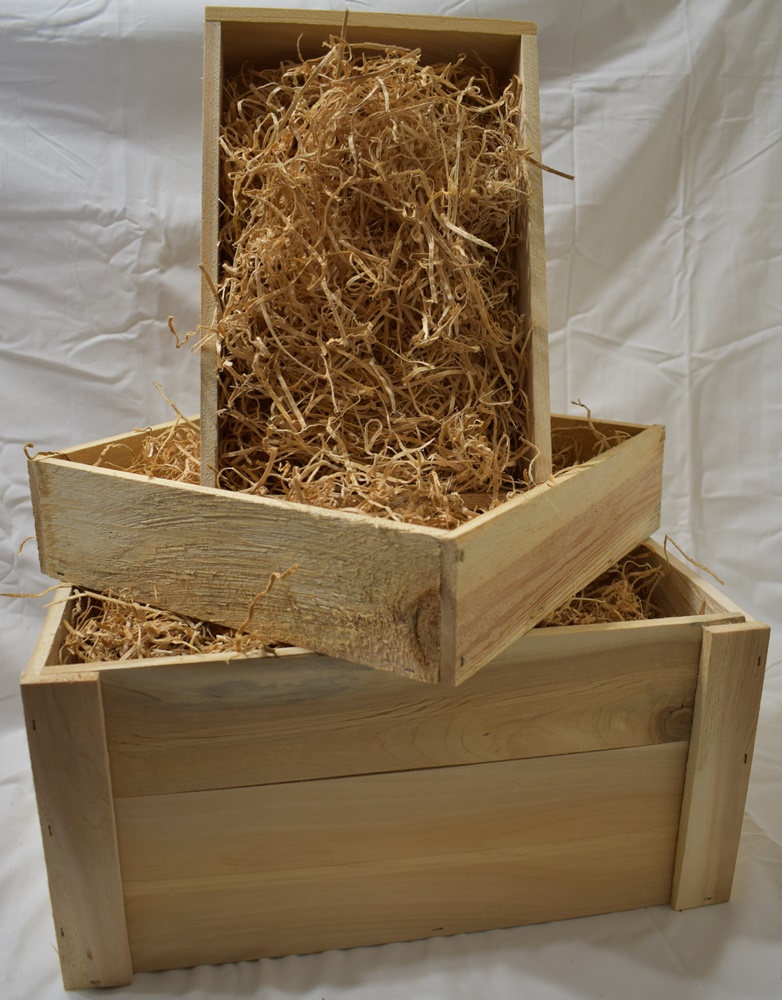 Wood boxes and crates from cedar and pine are available in a variety of sizes to suit your products.
We also offer 2.37 cubic foot cardboard boxes of 100% virgin excelsior for you to add to your own gift boxes and other packaging.


Installation tip:
If you are using chalk to mark your lines, be sure to use blue chalk. Blue will wash away while red chalk is permanent.

Since I began producing lumber, then shingles I have always tried to utilize all the material from the logs I purchase. I have felt in doing so, it reduces our impact on the environment.